Industry Association Slams Ryanair's treatment of Spanair Staff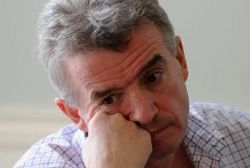 The Spanish Federation of Travel Agencies and Tour Operators (CEAVyT) has praised the conduct of the former employees of collapsed airline, Spanair, in the face of insults and abuses by the chairman of Ryanair, Micheal O'Leary.
The organisation's President, Rafael Gallego, offered his support to the group, who O'Leary mocked by thanking the protestors at Bilbao airport for promoting Ryanair's introduction of routes previously scheduled by Spanair, referring to them as his "fan club".
According to the CEAVyT, Spain could lose as many as 2,000 jobs every day throughout 2012, which is excerserbated by the actions of Ryanair.
Gallego called upon the Spanish authorities to strongly consider the current levels of subsidies and support currently granted to Ryanair at various airports. The airline currently takes more than 50% of all subsidies paid by the regions to low-cost carriers, and should therefore conduct themselves with more respect to Spain and Spanish employees working in the airline industry.