Spanair owes AENA €70 Million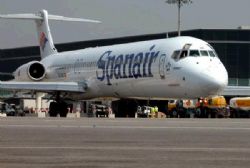 It has been revealed how Spanair, the recently collapsed airline currently in Bankruptcy, owes AENA €70 Million in unpaid airport charges. The fact that debts were allowed to escalate to such a level shows how the Government supported the regional carrier in sustaining a number of unprofitable domestic routes.
The Ministry of Development and Public Works chose not to comment on the subject, saying how it was a matter for the courts.
Spanair, owned by Swedish SAS Airlines, is thought to owe a total of €149 Million in debts.
AENA will have an advantage over other public creditors, such as the Catalan Institute of Finance (ICF), a branch of the Regional Government, which provided Spanair with funding of €20 million euros.
Today the negotiations for the Record of Employment Regulation (ERE) will begin, which will mean the dismissal of the entire workforce so that affected workers can receive unemployment benefits as soon as possible. However, the extend of the debts means that any compensation for loss of employment will not be forthcoming.
The Spanair bankruptcy case will be heard in full by a Judge, but is expected to take a number of months to bring to a conclusion.