Murcia Implements New Emergency Plan for Corvera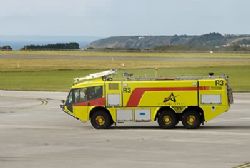 The City of Murcia, whose municipality Corvera airport falls within, has awarded the contract for the writing of a new Municipal Emergency Plan.
The plan, which will cost €48'000 just to draw up, will look at a number of different scenarios and suggest procedures that should be implemented by the emergency services in the event of any major incidents. Although the plan itself will focus on a wide range of 'emergency situations', Corvera Airport, which is soon to become operational, is expected to be a major point of focus in the report.
Such Plans are mandatory for all municpalities in Spain which have more than 20'000 residents resgistered on the padron.
In addition to risks which the operation of the new airport may present, the Municipal Emergency Plan, which was last written in 2008, will consider natural risks (climatic, geological and geoclimatic) which may result in the need for evacuation of residents, together with technological risks such as hazardous industrial activities, the transport of dangerous goods (road, rail, etc) and so-called anthropic risks (public places and concentrations of people).