Will Corvera add to El Altet's further demise ?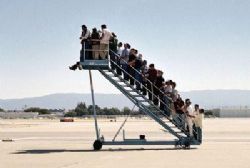 Alicante's El Altet airport has seen a 11.9% fall in passenger numbers over January of this year, and a 20.2% fall in the number of operations compared to the same period in 2011.
In relative terms, the number of passengers arriving at the airport stood at 424'309 (down from 481'571), and the number of flights 3'479 (down from 4'359), according to data released yesterday by AENA.
2011 represented a record year for passenger arrivals at El Altet, processing 9,913,764 visitors and 75,572 operations, however it is becoming increasingly unliklely that those levels will be seen in 2012.
For one, Ryanair's ongoing dispute with the management of the airport over the enforced use of airbridges has prompted the airline to slash 20 routes from their schedules, resulting in the loss of 300 flights per week during the summer period . This move alone has been predicted to result in the loss of 1.5 Million passengers before the end of the summer.
Furthermore, the announcement that Corvera International airport is due to become operational by late June / early July has apprently prompted 20 airlines to express an interest in flying to the airport. At just 100km away, Corvera airport is already likely to be more convenient for many passengers who had previously flown from El Altet. If Ryanair should cease all operations at Alicante and create a hub at Corvera it can only add to the demise of El Altet.