The continued wastage at Castellon airport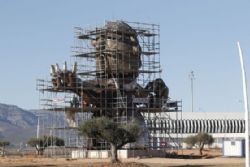 Further to the recent announcement that the runway at Castellon is too short it has now been revealled that the regional and national authorities were aware of this fact as early as April of last year.
The Aviation Saftey Agency of Spain (EASA) confirmed that the existing runway was not only poorly constrcuted, but too short to allow airplanes to safely land, taxi and take off and any remedial work undertaken to correct the runway would amount to an estimated €80 Million.
Despite Aerocas, the promoter and developer of the airport headed by President Carlos Fabra, being aware of this defect, the airport was still inaugurated in March of 2011 and various contracts for a number of services awarded - despite the knowledge that no aircraft was likely to ever be given permission to land.
Further to the required runway re-modelling, a brief account of further spend at the airport includes :
* The Salary of the Director of Castellon airport, Juan Garcia Salas, being paid more than the PM , despite having no air traffic to be responsible for.
* The Airport spending some €30 Million on promoting tourism in the region, despite no tour operators or airlines being contracted to the airport.
* Aerocas commissioning a €300'000 statue of their President , Carlos Fabra, to welcome visitors to the airport. Despite there actually being no vistors.
* A contract of €450'000 for Falconry being awarded, at the rate of €90'000 per year over a five year term - the Falcons being intended to keep wild birds away from the non-existent airplanes on take off and landing.
Just this last weekend the airport saw a demonstration of 3'500 protestors gathered at it's gates against the rising debts of the Valencian regional government. With austserity cuts becoming ever more severe in the region it is easy to see why Castellon is such an easy target for those looking to vent their anger and frustration.