Ryanair expect to fly 6 Mln passengers to Barajas in 2012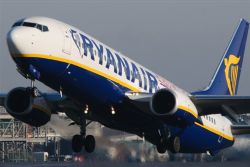 Ryanair have been predicted to fly almost 6 million passengersto Madrid-Barajas airport over the course of this year, after posting record numbers in the reservations for the 48 routes currently scheduled at the hub.
These reservations have surpassed the airline's own estimations by around 20%, Ryanair said in a statement today, predicting how 2012 will be a "great year" in which Madrid-Barajas will process 5.9 million Ryanair passengers, supporting more than 5,900 local jobs.
The statement went on to put this increase down to the publicity that the airline recieved as a result of offering special "rescue rates" for passengers effected by cancellations made by other airlines, notably those caused by the Iberia Pilots strike and the collapse of the Catalan airline, Spanair, two weeks ago.