AENA losses 'Down to Barajas'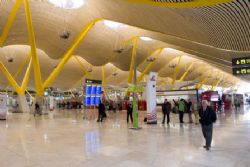 The Minister of Development, Ana Pastor, announced earlier today how Barajas and El Prat airports should compete on an equal basis and work together to address the €14 Bln debt owed by AENA.
Pastor went on to comment how Barcelona's El Prat airport in particular had seen "impressive" growth over the last 12 months - up to 34 Million passengers - and was operating "extremely competetively". By comparison, Madrid's Barajas airport flew 41.7 Million passengers.
However, a senior member of the Ministry disagreed with the Minister, stating how AENA's business model was outdated, referring to it as "Soviet", speaking of how the previous administration signed 23 seperate agreements with other countries in a bid to "force" governments and airlines to fly to Barajas airport.
He went to say how "AENA's losses are down to Barajas"