Aviation Saftey Agency still to visit Castellon airport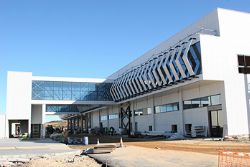 Safety Inspectors and technicians from the Spanish Aviation Safety Agency (EFSA) have as yet been unable to visit Castellon airport as they are still reviewing the documentation supplied by Aerocas, notably their application for operating permits.
As such, one the correct documentary proceedures have been met, the physical inspection of the facility will follow.
Previous inspections of the airport by the EFSA found significant problems with the runway , notably the fact that it is not currently wide enough for the aircraft to turn around saftely. A number of other problems were also previously identified, such as the surface of the runway and the clearing of a number of trees around the perimeter of the airport, which will need to be rectified before any final operating permits can be awarded.