Castille y Leon sign €15 Mln agreement with Ryanair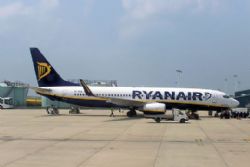 The Regional Government of Castilla y Leσn has signed an agreement with Ryanair to the value of €15 Million to maintain flights to the regional airport at Valladolid.
Over sixty poercent of all passengers flying to or from Valladolid's Villanubla airport last year did so with Ryanair, which gives some indication of the importance that the airlines has to the airport, and the region as a whole.
Ryanair processed some 273'900 out of a total of 433'089 passengers in the first 11 month of 2011, on routes between Valladolid and Barcelona; Brussels; Lanzarote; Stansted; Malaga and Milan.
Ryanair began operations at Valladolid in 2003, and last year increased passenger numbers on 5 of their 6 routes, with numbes slipping slightly on their El Prat route.