AENA to remodel new terminal at El Altet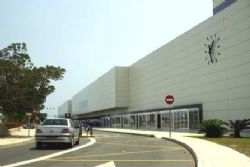 AENA is in the final stages of plans to move employees from the temporary offices at the side of the now abandoned terminal near the control tower at El Altet airport, to facilities in the new terminal building, open since April 2011.
The new terminal building was completed at a cost of 700 Million euros and at almost 350'000 m2 can process 20 Million passengers per year - double the amount of traffic seen in 2011.
The Technical and Administrative services offices will now be relocated to the new terminal building, however, the move has prompted criticism from the CCOO union representatives at the airport, who have demanded that an independant block of offices should be contructed.
The CCOO delegate at the airport, Jose Luis Valdes, called for the now unused old terminal building to be adapted and remodelled into offices for use by AIr Traffic Control, Administration, Maintenance and Facilities and Meteorology, however this was found not to be cost effective.
Valdes criticised the proposal to modify offices at the new terminal, which is expected to cost 3 Million Euros, as a waste of money, when the facilities already exist.