Corvera Airport added to EU infrastructure plan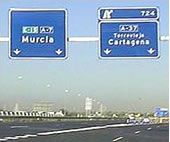 Ana Pastor, the Minister of Development announced yesterday that Corvera International airport has been included in the Trans-European Transport Network (TEN), which the Government of Spain will present to the EU in Brussels.
The Modifications to the TEN will demonstrate improvements made with proposed and existing regional infrastructure communications, specifically the AVE and conventional railway neworks, and how they integrate with the new airport.
In October of 2011 the European Commission accepted the proposal of the PSOE's then Minister for Development, Josť Blanco, in connecting Algeciras in Cadiz, Southern Spain, to Scandinavia via the Mediterranean coast.
Aside from modifying the TEN proposal to include Corvera airport, the Minister spoke of the port of Cartagena being added as a significant infrastructure project.