Spain Labour Reforms : In Laymans Terms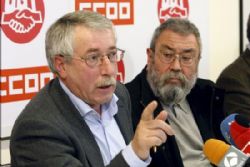 Last week's Employment reforms have not been far from the press headlines this past week, and have prompted a number of protests in many cities in Spain. But aside from the known fact that they effectively reduce the rights of the employee in favour of the employer, what shape do these reforms actually take ?
Tumbit has sifted through the finer details in an attempt to find a simplified answer for the 'layman'.
The reforms have been split into 4 key elements :
To promote the employment of workers; To Promote permanent contracts; To Promote Employment flexibility as an alternative to job losses; and to Promote the efficiency of the labour market.
The reforms now mean that businesses can cut salaries without prior notification of agreement, simply by claiming they "are necessary for reasons of competitiveness or productivity" under the details of the 'flexibility' clause. Employers will be able to claim they are experiencing difficult situations in order to transfer staff to other jobs, locations or shift patterns to suit their requirements.
The new law also makes it cheaper and easier for businesses to sack workers. Prior to the reforms, any sacked employee was entitled to 45 days' pay per year of service, up to a maximum of 42 years. This will now be cut to 33 days per year, up to a maximum of 24 years salary. However, if such layoffs are "financially driven," (aren't they always ?) companies only need to pay 20 days' wages, up to a maximum of 12 months.
Changes also include the loss of all benefits when an unemployed person rejects an offer of employment for a third time, which in the current market will mean many jobseekers being forced into accepting a job that they are over qualified and underapaid for.
New contracts of employment, including the new 'training and apprenticeship contracts', intend to reduce youth unemployment, but this has also brought criticism that it will result in the increase in poorly paid jobs and the decrease in the the availability in permenant positions as older workers are forced out of their positions.
Businesses with fewer than 50 workers - currently accounting for around 95% of Spanish businesses - will also be able to employ staff on a "Permanent contract in support of entrepreneurs" for 12 months and to make redundancies whenever required.
A new range of subsidies will also be offered to employers in hiring staff, notably where theycan receive tax breaks or a portion of the benefits currently paid out when they take on a previously unemployed member of staff - in certain cases accounting for 50% of the benefit paid out for 12 months.
Changes also put an end to the practice of a continuous renewal of temporary contracts for more than 24 months, however this is a case of giving with one hand and taking back with another, as businesses can enjoy the same benefits by employing staff on the new "permanent contract in support of entrepreneurs", as mentioned above.
The previously detailed administrative process that businesses had to go through when sacking workers collectively, the Employment Regulations (ERE), has also been scrapped, and businesses can now make mass redundancies without any procedural difficulties.
Whilst the reforms have been welcomed by the CEOE Business Association, as being a significant move in helping the country's economy back to productivity and growth, a number of unions, including the CCOO and UGT have criticised the reforms as being abusives to the rights of workers.