Volotea Interested in flying to Corvera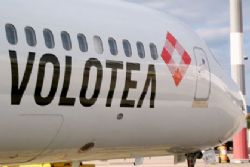 Volotea, the Barcelona based Spanish low-cost carrier, has announced it will establish routes to and from Corvera International airport.
The Airline, which was created just last year by the founders of Vueling, Carlos Muñoz & Lázaro Ros, currently operates with just three Boeing 717 aircraft, but plans to offer a number of routes along the mediterranean, including Corvera; Alicante; Valencia; Barcelona and Venice.
The airline ruled themselves out of assuming any of the routes left by the collapse of Spanair due to excessive competition already in place at airports such as Madrid, Barcelona, Paris, Rome and Milan and will instead concentrate on establishing routes at smaller airports.