Spain Looking Into AENA Sale, Pastor Tells ABC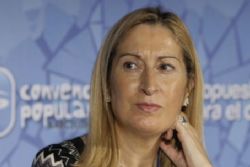 Spain's government hasn't decided whether it will sell state-owned airports' operator Aena Aeropuertos SA in one go or gradually, Public Works Minister Ana Pastor told ABC newspaper in an interview.
The government is assessing the viability of each airport operated by Aena, Pastor told ABC.
Spain will enact new rules to implement European legislation guaranteeing air passengers' rights in the case of a bankruptcy such as with Spanair SA, Pastor told the newspaper.
Pastor also said the government will support Spain's highway operators to avoid any default.
Last week a number of Government sources suggested that the Ministry of Development is considering the possibility of privatising AENA airports in batches.