Murcia 'will pull through crisis ahead of other regions'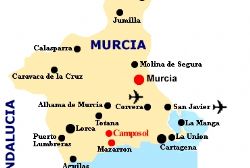 Presidential advisor, Manuel Campos, has told Europa Press of his confidence that the Region of Murcia will come through through the economic downturn before most other regions.
Campos puts this down to the expected success of Corvera airport and the Paramount Pictures theme park, which "are projects that generate wealth, economic activity and employment to lead the way out of the crisis."
In addition to the above projects he also mentioned the development of the port at Cartagena, together with the Cieza biomass facility, where construction is expected to commence before the summer.
The arrival of the AVE with the Mediterranean corridor will complement Corvera airport, and together they will make the region more accessible for visitors.
The Minister for the Presidency emphasised that the combination of the completion of such projects, together with widespread promotion by the tourism industry would undoubtedly result in the creation of jobs.