Students arrested in Valencia education 'riot'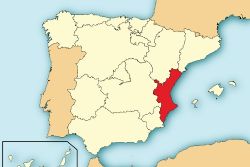 Riot Police last night broke up a number of demonstrations held in the city centre of Valencia, where student groups were holding protests over against cuts to public spending - particularly in the education sector.
Valencia is currently the most indebted of all Spanish regions and has recently seen a number of similar protests in what the public see to be an increasing number of cuts being made to public spending to cover inefficiency, incompetence and wastage of public funds on 'failed' projects such as Castellon Airport and the Terra Mitica theme park in Benidorm.
Police were accused of being heavy handed in their treatment of the protestors, using unnecessary violence and arresting an estimated 21 students.
The students, who are using networking sites to organise the protests, say they will continue with their protest until the Valencian Minister for Education resigns.