Ryanair cancel two routes to Spain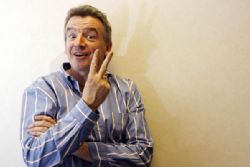 This morning Ryanair announced the cancellation of two routes from Edinburgh airport to Spain.
The routes to Ibiza and Murcia are amongst a total of 5 routes cut from the 40 previously, as the company cuts operations by 15% from April, which will result in the expected loss of 300,000 passengers.
The move comes following Ryanair's threat to leave the airport altogether in the face of increasing charges, whilst other airports are reducing their charges in the face of a competetive market.
Michael O'Leary promised how the move would not result in the loss of employment for any Ryanair staff, but that he anticipated that around 300 jobs would be lost indirectly due to the cuts.
It is known that Murcia (San Javier) airport is due to transfer all operations across to the new airport at Corvera during the summer, and that Ryanair have expressed an interest in flying to Corvera, but as yet the exact nature of any propsed routes are unknown.
What is known is that Ryanair's current contract at Edinburgh airport is due to expire in October, and this may simply be a case of Michael O'Leary flexing his muscles.