Tourism Association Visits El Altet over airbridge concerns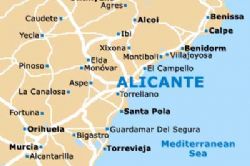 The Director of Alicate's El Altet airport, Santiago Martínez-Cava, adressed the board of the HOSBEC tourism association, where he confirmed that Ryanair would not be permitted to disembark passengers by foot on all of their flights for reasons of safety.
Delegates from HOSBEC were visiting the airport, and were told that whilst AENA and the management of the airport were willing to be flexible, the design of the airport terminal building did not permit the changes being demanded by Ryanair.
The airport's decision not to allow disembarking by foot prompted a lengthy legal battle, and has resulted in the cancellation of 300 flights per week by the airline, and is expected to result in the loss of some 1.5 Million tourists to the region over the summer months alone.
The representatives of the region's tourism sector accepted the reasons behind such a decision being made by the airport, but expressed concerns that more should have been done to accomodate the requirements of Ryanair, and reminded AENA management that similar low-cost carriers account for 70% of all passengers arriving at the airport.