Murcia President speaks of importance of Corvera and Paramount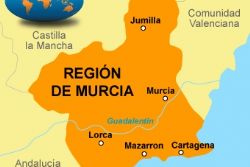 The Regional President of Murcia, Ramon Luis Valcarcel, has spoken of the importance that Corvera International Airport will have on tourism in the region as soon as it becomes operational.
He commented how the region needs 'instruments' in order to base such growth upon and continued with his previous calls for Spanish tourism to be promoted abroad under "Brand Spain".
The President also spoke of other regional projects that are due for completion and expected to have an impact on local tourism, notably the new Parador at Lorca, which is one of five new Paradores expected to be open by the summer, together with the increased interest in propety in the region on the back of the Paramount Pictures theme park project. Although not scheduled to be open for business until 2015, the project has already attracted a significant amount of speculation and investment in local property.
Although Murcia is one of the least visited of the Mediterranean regions, last year it accounted for 9.6% of GDP ( up from 7.6% in 2007 ) and is expected to reach 11% by the end of 2012.
The theme park alone is expected to have an impact of around 535 Million Euros per year on the local economy, result in the creation of 26'000 local jobs, welcome up to 3 Million annual visitors and contribute between 2 - 3% of the regional GDP.