Today's strike at Barajas 'had not affected flights'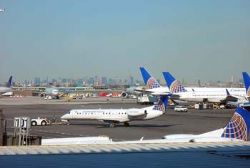 Airport Technicians (TPO's) employed by AENA at Madrid-Barajas airport have held the first of a planned 10 days of strike action today.
Further strike dates have been called for the 23rd and 24th of February; the 16th and 19th of March; the4th, 8th and 30th of April and the 2nd and 3rd of May.
The Barajas Strike Committee, composed of CCOO, UGT, USO, CGT, and CSPA union members has accused AENA of taking advantage of recent strikes by Iberia airlines, and the collapse of Spanair in reducing the number of staff employed at the airport due to falling activity.
AENA officials at Barajas have since confirmed that the action has not affected any of today's operations at the airport which is scheduled to process around 1'000 flights today.