Iberia Pilots strike forces 107 cancellations Friday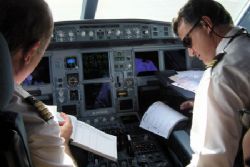 Further strike action by members of the SEPLA Pilot's Union is set to cause the cancellation of 107 Iberia Ailine flights tomorrow, Friday 24th February, representing 34% of all scheduled operations.
The majority of cancellations are for domestic flights and short-haul routes to Brussels, Amsterdam, Paris, Munich, Zurich, Geneva, Frankfurt, Berlin, Istanbul, Rome, Lisbon, Milan and Venice, with long haul flights to New York, Mexico, Tel Aviv, Buenos Aires and Sao Paulo also being affected.
The Ministry of Development has intervened to ensure that 50% of all flights between the mainland and the islands are maintained, as are 50% of national routes over 5 hours duration, 25% of those under 5 hours duration, and 50% of flights to European cities of less than 6 hours duration.
A further day of strike action will take place on Wednesday February 29th, where SEPLA union members will be joined by the CTA and CNT ground cre unions and the STAVLA flight attendants union.
CCOO and UGT union members previously voted not to take part in any strike action.
The SEPLA union representative for Iberia, Justo Peral, called for his colleagues who are affiliated to other unions to join the action in protest over the airline's creation of low-cost carrier, Iberia Express, due to launch operations on March 25th. He claims that if this is allowed to go ahead it will result in the loss of jobs at Iberia.