AENA ruled out of operating Castellon airport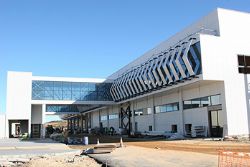 Any agreement between between Aerocas and AENA over the management of Castellon airport is becoming increasingly unlikely, following on from Ana Pastor's comments last month that there shall be no more 'airports without passengers'.
Although the Ministry of Development has made no offical statement on the situation, their silence on the matter would indicate that they have no intention of becomiing involved with the already problematic 'White Elephant' airport that has swallowed up an estimated €300 Million in investment and remains €15 Million in debt.
Despite being open for 1 year, not one plane has landed at the airport, and just last month it was confirmed that the airport's runway required remedial work at an estimated cost of €80 Million.
The CCOO, UGT and USO Unions have also called on the Minister not to appoint the publically owned operator, AENA, to get involved with the project following the previous operator, Airport Concessions, being released from their contract.
In the meantime, Airport Concessions are being accused of mismanagement of the airport, with particular reference to the unsuitable runway, and are in turn accusing Aerocas of breach of contract.
Further news articles about Castellon Airport can read by clicking HERE.