Hoteliers group offers to manage Castellon airport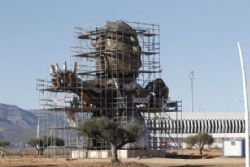 An association of Hoteliers in Castellon, Club de Producto Turístico Castellón Mediterráneo, have asked to meet with the Regional Minister for Tourism, Lola Johnson, underwhose responsibility Aerocas fall, to offer themselves as the managers of the airport.
Club de Producto Turístico Castellón Mediterráneo was launched in late 2011 with the objective to raise the profile of Castellon and promote the area to airlines and tour operators.
Javier Gallego, the Vice-President of the association, claims that this is simply because without an influx of tourism to the province by October, a number of businesses will have to close.
Gallego continued that there was no need to debate whether the airport was a waste of money , or whether a statue at the airport was absolutely necessary, but to move forward with finding a solution. He reminded the Generalitat that the problem was to manage an airport - not NASA.
Yesterday, it was reported that it was 'unlikely' that the national airports authority - AENA - would be invited to manage and operate the airport by concession holder, Aerocas.