Spain hopes to lure foreign firms to bank sector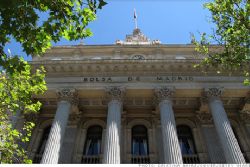 Spain's new government hopes to attract foreign banks after it whittles down the number of financial firms and forces them to clean up their balance sheets after the country's real estate collapse.
"There is an opportunity," Spain's economy minister Luis de Guindos said on Friday at the Brookings Institution think tank in Washington.
"We will have in Spain fewer players in the banking landscape but much sounder and much safer, with better corporate governance," he said.
This month the government forced Spain's banks to deal with an additional €49 billion in losses on assets left over from the housing collapse.
The banks had already taken writedowns for property holdings and bad loans in an earlier financial sector overhaul, but now de Guindos said his government is instilling a stricter corporate governance regime.
De Guindos said the Spanish banking sector will eventually have better rules, more clarity and sounder players. "I hope some international players will be interested in having a presence in Spain," he said. "The penetration of foreign banks in Spain has been limited." Spanish banks' exposure to troubled real estate assets is equivalent to 18 percent of the country's economic output.
In Washington before a weekend meeting of the group of 20 leading and emerging economies in Mexico, De Guindos spoke with U.S. Federal Reserve Chairman Ben Bernanke where he explained his government's new deficit reduction measures.
Spain, which saw its borrowing costs soar last year, is under pressure to curb its deficit to 4.4% of GDP, down from the 8% reached at the end of last year.
The country is hoping the European Union's executive will give it a softer deficit target. "This is something we have to start discussing with them," De Guindos told reporters.
His comments come one day after the European Commission forecast that the euro zone was heading into its second recession in just three years. The commission projected that economic output in the 17 nations sharing the euro will contract 0.3% this year, reversing an earlier forecast of 0.5% growth in 2012.