Tourism Chief expects a 7pct increase in 2012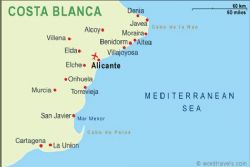 The Chairman of Tourism for the Generalitat Valenciana has told the Spanish press how the regional government has extended the use of all facilities at Alicante's El Altet airport to Ryanair, but has given the priority to safety.
Nonetheless, he spoke of the importance of the British market, and did not see the airline's departure from the airport as too much of an issue.
"The British market contributes about 40% of the 5.4 million foreign tourists who visited Valencia in 2011 and Benidorm alone attracted 3.7 Million British Visitors - almost 90% of those in all the hotels in the region, with data for 2012 looking positive" He told the press.
"Both the Spanish Institute of Tourism Studies (Turrespana) and the Association of British Travel Agents (ABTA), confirm an expected growth of 7% for Benidorm and the Costa Blanca."
Sebastian Fernandez went on to confirm that the British market was an important one for the region's tourism, and that it was important not to become complacent about this.