AENA invest 413 Mln Euros in quietest airports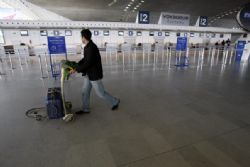 Cinco Dias has revealed how the 12 smallest airports by passenger numbers in the AENA network of 49 airports have swallowed up 413 Million euros in Investments over the past decade.
Far from being profitable, the passenger number in the bottom 12 for the month of January ranged for 160 passengers per day (Leon) to zero (Sabadell).
However, the future prospects for the plans for the three privately owned commerical airports look even more bleak. Between them Ciudad Real, Castellon and Corvera airports have recieved 910 Million Euros of investments to date, with no flights scheduled at any of these airports in the foreseeable future.
The EU has now imposed a transparent bidding process for public aid offered to airlines for maintaining flights to airports that have few passengers. If and when the regions are forced to stop paying the subsidies for airlines to fly to such airports, the number of 'white elephant airports# can surely only be expected to increase in number ?