Corvera inherits lower than expected passenger numbers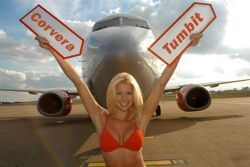 Prior to the onset of the collpase of the economy, the regional ministry for public works estimated that the potential was for 5.5 million air passengers to visit Murcia every year.
Although the Plan for Strategic Infrastructure and Transport did not foresee the crash when it was written in 2005, it also did not take into consideration any developments that may take place at nearby Alicante airport, which may have an effect on the number of tourists flying into Murcia.
The number of flying to San Javier airport grew to reach their peak of 2 Million in 2008, but since then numbers fell away to just 1.2 Million in 2011.
To this effect, the new airport at Corvera will inherit passenger numbers of just 1.2 Million per year and neeed to compete for business against Alicante's El Altet airport, which grew to recieve a record 9.9 Million passengers in 2012, and following the opening of a new terminal building, has the capacity to process twice that amount.
To build on the numbers they will inherit, Aeromur plan to establish new routes to both Madrid and Barcelona, ​​in addition to other domestic routes, and to attract new arlines to the airport from Scandanvia and Russia.
Although the short to medium term goal for Corvera is to attract 3 Million passengers per year, it is questionable whether this will feasible until the Paramount Pictures theme park opens as planned in Spring 2015.