German airlines pull out of El Altet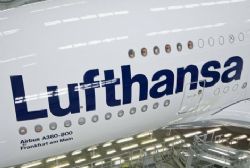 It is unusual to read anything about Alicante's El Altet airport in either the British or Spanish press that does not mention Ryanair - especially when the airport is coming under increasing pressure to maintain it's record passenger numbers for 2011 in the face of cut flights by the Irish budget airline, and potential competition from the soon to open Corvera airport.
However, the latest airline to put a spanner in the works at El Altet is Lufthansa. The German airline - ranked in the world's top five carriers - has pulled the plug on air direct flights between Germany and Alicante. Instead, 22 flights per week will now depart from Valencia's Manises airport to Berlin, Munich and Dusseldorf.
A Lufthansa spokesperson yesterday said that the decision had been made due to the current limitations of its fleet, and their policy of strengthening existing connections rather than grow with new destinations, however they acknowledged the Costa Blanca as an important destination for German Holidaymakers and did not rule out a return to the airport.
Given that Lufthansa continue to operate as previously in Malaga; Palma de Mallorca; Ibiza; Bilbao; Madrid and Barcelona, this has obviously drawn speculation that the airline may be considering the viability of Corvera airport as an alternative destination.
Meanwhile, Alicante's Hoteliers and Tourist associations have lamented the fact that El Altet is rapidly becoming a low cost hub, with 8 out of every 11 flights at the airport being with budget carriers , which is making it increasingly difficult for mainstream carriers to compete. Valencia, being the regional capital with a reliance more on commercial traffic rather than tourism, is more attractive to non-budget carriers as the ticket prices are not as price sensitive.
BMI - currently being taken over by IAG - currently operates at El Altet under the Lufthansa group, offering flights to Belfast, Birmingham and East Midlands. A number of other Lufthansa owned airlines - Germanwings; Austrian Airlines; Brussels Airlines and Swiss International, also have no operations at the airport. The Lufthansa group flew 6.6 million passengers to Spain in 2011 - a growth of 12% on 2010.
Although 2011 was a record year for passenger numbers at El Altet, with 9.9 Million Passengers, the total number of passengers arriving from Germany was just 656,954 - a decrease of 14.5% on 2010. The trend looks set to continue into 2012 with just 21'035 German passengers arriving in January 2011 - 25% down the same month in 2010.
Lufthansa is not alone - Air Berlin has also followed Ryanair's lead and removed 9 flights from El Altet to Frankfurt, Munich, Nuremberg, Stuttgart and Zurich for the summer period - represnenting a 45% cut of services.
Although this can not bode well for AENA and El Altet, it may be the the private owners of the new Corvera airport are able to negotiate a more attractive offer for such carriers.