Minister criticises Castellon airport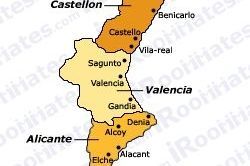 The Minister of Development, Ana Pastor, gave an interview yesterday where she criticised Castellon airport and the fact that it has still seen no passengers in the terminal building one year on from being officially opened.
Pastor's comments were made in response to the suggestion that the owner / Licence holder for the airport - Aerocas - has shown willing to let the central government be involved with the operation of the airport.
The Minister went on to say how in recent years there has been a huge investment in building similar airports, many of which are either empty or under performing, and have attracted investments of 14.9 Billion Euros.
She went on to say if there was an example of such an airport, that it would be Castellon, which still has an uncertain future after breaking their contract with Airport Concessions, the company originally employed by Aerocas to construct and operate the airport.
Castellon airport is owned by the regionla government of Valencia and as such is independent of the state-owned AENA networkj of airports, however, the Generalitat has expressed an interest in inviting AENA to take part in the commsioning of the facility. Furthermore, when the regional government announced the termination of the contract with Airport Concessions said it was suggested that AENA should become the operator of the private airport. This would essentially replecate the system in place at Corvera airport, where the publically owned body - AENA - would manage and operate the privately owned airport on behalf of Aeromur. However, the Minister ruled this sugestion out.
Aerocas have meanwhile proposed a compromise : Rather than run the entire airport AENA would provide certain key services to the airport as a contractor, which is something that they already do at a number of airport overseas.
The Ministry has intimated that they will not consider the matter further until the airport obtains all the necessary operating permits from the Spanish State Security Agency (EASA).
Further news articles about Castellon Airport can read by clicking HERE.