Barajas airport strikes to begin 16th March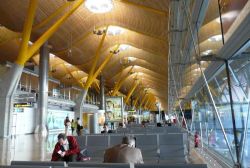 The strike committee at Madrid-Barajas airport has called for new strikes in March, April and May to demand that AENA maintain minimum staffing level and that a collective bargaining agreement is reintroduced.
Many AENA Employees at the airport are due to strike on March 16th, with further strike dates planned for the 19th of March, the 4th, 8th & 30th of April and the 2nd and 3rd of May.
The decision to proceed with the strike action was taken after AENA once again declined to replace the 9 vacancies in Operations and Programming department, and the decision to outsource the function of the parking of aircraft at the airport as from May.
According to the unions, the refusal to employ the required number of staff in this function is a breach of the Safeguards Agreement signed on March 16, 2011, which ended the strike call against the privatization of AENA and established agreed staffing levels to maintain safety at the airport.
The CCOO, UGT , USO, CGT and CSPA unions who negotiated these agreements with AENA, stipulated that both parties would "maintain and develop all the occupations of the collective agreement, which must be carried out by itself and can not be outsourced."
Unions have criticized AENA's management of Barajas for "hiding behind the fall in traffic, and the possible reinstatement of staff assigned to Ineco [the outsourced service provider]" as their justification of filling the vacancies.
The unions also claim that the Labour Inspectorate has urged AENA to cover these 9 vacancies.