El Hierro Earthquake Update : 1st March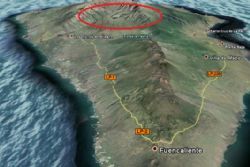 Scientists from the National Geological Institute (IGN) who have been observing seismic activity on the Island of El Hierro as part of the earthquake swarm, which began on the 17th of July last year, have recorded 'just' 10 earthquakes over the course of the last 7 days. This sees activity falling from the 25 - 27 earthquakes per week recorded over previous weeks, and considerably less that than the activity before December when as many as 60 plus activities per week were commonplace.
Once agains, the ongoing pattern of the majority of activities taking place in the area between Frontera and Pinar toward the North-West of the Island continues, with magnitudes ranging between 1.5 to 2.0 on the richter scale, and at relatively shallow depths ranging from between 9 to 14kms, with the majority of activity occuring at depths of around 10kms.
Meanwhile, on the opposite side of the Island in the bay of las Calmas, off the coast of las Restinga, the underwater volcanic erruption has seen a decrease in it's activity, with little or no 'Jacuzzi' and a significant reduction in the 'stain' being produced by volcanic gases.
The Cabildo de El Hierro has also indicated that the cone of the underwater Volcano has now reached just 100mts beneath the surface of the water, but this is yet to be officially confirmed by PEVOLCA.
It is too early to rule out the possibility of the earthquake swarm having come to an end, or about to do so, and likewise the fact that the Volcano may be about to enter a new phase.
Read previous news stories about the El Hierro Volcano by clicking the link HERE .