Alicante deputy calls on Ministry of Development to intervene at El Altet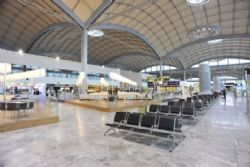 The deputy for the Equo Compromís, Joan Baldoví, has called upon the Central Government to initiate measures to offset the loss of many low cost flights from Alicante's El Altet airport, which is likely to have a serious affect on the Provincial tourism sector.
Baldoví pointed out that since the opening of the airport's new terminal there has been conflict between AENA and Ryanair over the enforced use of airbridges, despite an agreement being it place with the airline to allow passengers to disembark on foot.
The on-going a dispute has led to Ryanair to cancel 31vroutes from the airport so far, and reduce the frequency of flights on a further 27.
This, combined with the collapse of Spanish carrier Spanair last month, together with Lufthansa's departure from El Altet , has resulted in passenger numbers for January falling by 11.9%, which equates to around 50,000 fewer passengers per month.
For this reason, Baldoví has ​​registered several parliamentary questions to clarify the exact nature of the situation between AENA and Ryanair to ascertain the likelihood of the cut routes being reintstated, or to see if AENA is negotiating with other airlines to ensure that these lost visitor numbers can be replaced.
The deputy has called upon the Ministry of Development to intervene as soon as possible, given the threat that the loss of tourism to the area would have on the local economy.