Regional Deputies question opening dates for Castellon airport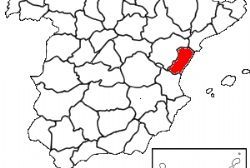 The Deputy for the Esquerra Unida at the Valencian regional parliament, Marina Albiol, has called for the PP not to obstruct the inquiry into Castellon airport, which is due to be discussed further at the Corts next week.
Albiol called upon the ruling PP not to use their majority in the regional parliament to effect a cover up of the mis-management of the airport and to prevent the efforts of those trying to rectify the situation "Right now we do not know what the future holds for our 155 million airport," said Albiol. "There are too many dark spots," she said, "in the economic management of this project, something is clearly negligent and someone will have to answer someday."
Meanwhile, the Deputy for the Compromís, Josep Maria Pañella, has presented a question from the Regional Minister for Tourism, Culture and Sport, Lola Johnson, on her claims that Castellon airport will be operational in May or June. "We want to know how this is possible if the airport is still operating without approved safety certification [which is still under review], and if there is not management yet appointed to run the airport, aswell as the know deficiencies identified with the runway."