11-M Association agree to Union protests on Sunday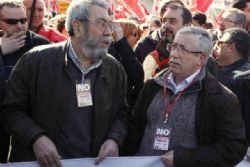 The 11-M Association of the Victims of Terrorism have given their blessing to a demonstration being held on the street of Madrid by the unions this coming Sunday in protests against the recentc Labour Reforms .
Sunday the 11th of March will mark the 8 year anniversary of of Madrid train bomb which left 191 dead. The date was just 3 days prior to the General Election and it has always been claimed was a decisive factor in the PP being vote dout of office.
The President of the association, Pilar Manjón, commnted how they did not have exclusive rights over the date, disagreeing with other victims groups which have demanded that the unions schedule their march on another day out of respect.
The leader of the CCOO in Madrid, Javier López, told El Pais "On March 11th we will protest in all cities, including Madrid, in spite of [PP Mayor] Ana Botella and [PP regional leader] Esperanza Aguirre." Lopez also confirmed they approached the 11-M association to agree on the date for the second major protest against the policies of the PP.
Pilar Manjón told the newspaper that the association has not yet decided who will represent them at the labor reform protest, but that she would be attending the victims' memorial event in Alcalá de Henares, as she does every year.