Regional Deputy calls for a new airport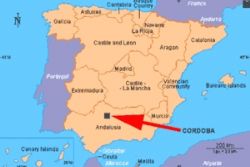 The Regional Deputy for Andalusia, Juan Jose Primo, has said how it is "necessary" for Cordoba to have it's own airport, depite the fact that there are currently no scheduled arrivals or departures from the facility.
Unlike the much-criticised 'Ghost airports' of Ciudad Real and Castellon (and to a lesser extent, the soon-to open Corvera airport), Cordoba airport is owned and operated by AENA without any private investor involvement.
In an Interview with Europa Press the Minister questioned whether the current airport had the best facilities to serve the province, and whether it was in the best location, and as such may be a better option to build a new airport elsewhere in the province.
Cordoba airport was the first Municpal airport in Spain, built by the Air Force in 1958, eventually being passed to the state for operation. As such requires a number of upgrades and investment to make it suitable for commercial useage.
Primo recognised the fact that any such upgrade at the airport may potentially cost the state Millions in Euros, and yet only result in the airport being suitable for purpose for a further 2 or 3 years.
Plans to develop the airport began in 2007 but soon faltered after some extension work to the runway due to a question of the legality behind the ownership of the land seized by AENA.
The airports authority later announced that the completion of the project would cost a total of 100 Million Euros, whereas the initial estimate had been just 60 Million Euros.
Cordoba is situated just 112km from San Pablo airpot in Sevilla, 116km from Granada-Jaen and 136km from Malaga. Can it really be that necessary a requirement for a new airport ? Have the provinces still not learned the lessons from Ciudad Real and Castellon ?