Aerocas refuse to pay licence for Castellon Airport construction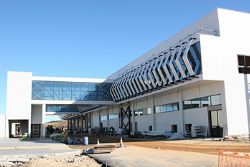 The Regional Partido Popular Government of Valencia are due to consider whether to open three seperate inquiries, one of which is concerning the running of the hugely contraversial Castellon airport, as demand by the various opposition parties.
The regional deputy for the Esquerra Unida, Marina Albiol, called for an investigation last week, where she also pleaded with the Partido Popular not to obstruct the inquiry.
Meanwhile the municipalities of Vilanova d'Alcolea and Benlloch, which surround Castellon airport, are still battling in the courts to recieve the payments promised by Aerocas for the licence to construct the facility. Benlloch approved the licence in November of 2008, and Vilanova in the following February, but both are still waiting for payment by Aerocas.
Carlos Fabra, President of Aerocas, argued that " the airport is not subject to license," since it is a work of general interest and therefore subject to regional planning and urban development.
The High Court of Valencia is expected to pass judgement on the issue later this week.