Santander and Orange collaborate on mobile phone payment system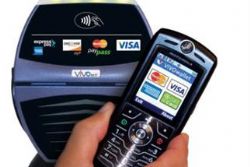 Ingenico, a developer and provider of payment solutions, has been working on a project together with Banco Santander and Orange on to develop a payment system that allows mobile phone users to use their device as a credit card.
The project will be tested initially in town of Boadilla del Monte, Madrid, where Santander employs a significant number of staff and where users will be able to pay for services and goods in around 40 payment terminal by holding their mobile phone next to a payment terminal, where their details will be scanned.
The system developed, based on NFC (Near Field Communications) technology, will also allow its users to make payments in places like restaurants, convenience stores and vending machines at the Bank's offices outside Madrid (Grupo Santander City).
The devices installed with the technology are the Orange iCT250 model, with compact design and ergonomic styling, offer a huge range of functionality. Their colour screens allow easy reading and promotion of the merchant's brand. Equipped with an unparalleled array of communication technologies, such as fast modem, Ethernet or GPRS, iCT250 deliver any time, anywhere connectivity and contactless EMV payment.
The payment platform also meets security standards as well as the full PCI PTS V3 certificate.
This technology also represents the first time that it has been possible to make contactless payments of any amount with the main providers of MasterCard and Visa, at the same time on the same terminal. The project has been developed in co-operation with Banco Santander, Orange, Oberthur Technologies, Visa, MasterCard, Redsys and RIM.