Ryanair : 'AENA responsible for cut flights'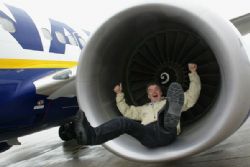 Ryanair have argued that if the courts reject their final appeal to allow passengers to embark at Alicante's El Altet airport, that AENA will be directly responsible for the loss of 18 routes and 1.5 million passengers.
El Altet airport has already seen an 11.9% reduction passenger numbers for January 2012 compared to last year.
According to Michael O'Leary who was speaking at a press conference in Alicante earlier today, the "abusive attitude" adopted by AENA which requires the use and payment of unnecessary airbridges will lead to a decrease in passenger numbers at the airport.
Although the final decision of the mandatory use of these gateways lies with the courts, two court rulings have so far gone against the airline, O'Leary has maintained that if the final appeal is not upheld further routes may be cut. However, if the decision is made in Ryanair's favour the decision may be taken to reinstate the routes already cut.
O'Leary questioned the 'safety reasons' given for the enforced use of airbridges, when the airline has been embarking passengers on foot at Alicante for the previous 5 years without incident. AENA claim that the design of the new airport, open in March 2011, calls for such safety measures, which Ryanair estimate will cost them 2 Million euros per year to use.
The courts are expected to make their decision known in the next 2 to 3 weeks.