Ryanair reinstate Reus - Mallorca route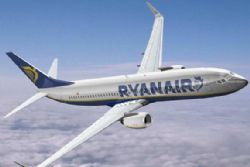 Ryanair have brought the number of routes offered from Tarragona's Reus Airport to 16, following the introduction of flights to Palma de Mallorca for the summer schedules.
Flights will begin on April 1, and will run on Mondays, Wednesdays, Fridays and Sundays, with tickets starting from 10 Euros each, plus taxes, and will be the only domestic route served by Reus.
The 16 destinations served by Ryanair from Reus for the summer will now include : London-Stansted; Birmingham; Bristol; Brussels; Cork; Dublin; Düsseldorf; East Midlands; Eindhoven; Frankfurt Hahn; Glasgow; Leeds-Bradford; Liverpool; Manchester; Palma de Mallorca and Luton.
However, the 16 routes operated will still only be 50% of the flights which Ryanair operated over the 2011 summer season, which leaves a questionmark hanging over the promised reintstatement of all 60 of the baggage handlers employed by Ryanair at the airport via Lesmo Handling.