Tourism Chief defends need for Castellon airport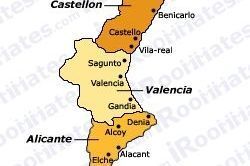 The President of the council, Javier Molino today defended Castellon airport as a "great gateway of tourism to the province", as he addressed resprentatives from the tourism sector with the Provincial Tourism Marketing Plan for 2012.
Molino went on to say how the future of tourism "in Castellon was not only reliant on the succesful completion of the airport, but also on investment in the AVE high speed rail network and other road infrastructure projects being completed.
The President told delegates how tourism had to be seen as the solution to bringing jobs to the province above any other sector, and therefore the importance that completion of the airport held for the area.
The Tourism Marketing Plan for 2012 shows that 80% of all visitor numbers coming to Castellón in 2011 came from within Spain, mainly Valencia, Catalonia and Madrid.
France was a particularly important market, supplying some 30% of all foreign visitors.
It was also noted how the availability of tourist accomodation in Castellon had increased 15% over the last decade, from 80,459 beds in 2000 to the 92,573 in 2011, meaning that the province now holds 24.4% of all available accomodation in the Region of Valencia.
The number of holiday apartments for rent has also grown by 10% over the same period, largely due to the housing crash, which has seen many developers offering rentals for apartments that have been unable to sell.
The Tourism Marketing Plan also identifies a number of niches such as Gastronomy, Beaches,Music Festivals, Sports, Activity Holidays etc... as means of attracting visitors to the area and has developed promotional strategies to target these areas.
There will also be online marketing campaigns, campaigns in travel agencies, participation in 17 international fairs and familiarisation trips laid on for the French Austrian, Russian, Scandinavian and English press.