Iran ambassador says still selling crude to Spain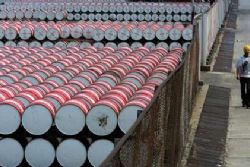 Iran is still selling crude oil to Spain, which imported some 15% of its crude from the Islamic Republic before the EU announced new sanctions, the Iranian ambassador to Madrid said on Tuesday.
"Still we are selling oil to Spain now," Morteza Saffari said on the sidelines of a news briefing, but was unable to provide details of amounts being shipped.
The EU banned all new contracts to import Iranian crude on Jan. 23 to deprive Iran of funds for its nuclear programme, which the Middle East country insists is for peaceful purposes. EU countries with existing contracts to buy oil and petroleum products can honour them until July 1.
"That depends on them. To our position, there is no objection," Saffari said when asked how long Iran would keep selling crude to Spain. Spain began to ramp up crude imports from Saudi Arabia and scale down shipments from Iran in December, according to the latest official data.
Last month Spanish Industry Minister Jose Manuel Soria said Spain's two biggest refiners, Repsol and Cepsa, had arranged alternative supplies mainly from Saudi Arabia, Russia and, to a lesser extent, Iraq.
Repsol has repeatedly declined to comment on details of its crude transactions.
Cepsa, which is owned by Abu Dhabi investment vehicle IPIC, said in February it was settling deals to buy crude mainly from the United Arab Emirates.
Spain imported 4.28 million tonnes of crude in December, down 13.6% from a year earlier due largely to a persistent economic crisis.
Repsol has the capacity to refine a total of 890,000 barrels per day and Cepsa 430,000 bpd. BP also operates a 110,000 bpd refinery in Spain.