Spanish regulator defies Brussels on mobile prices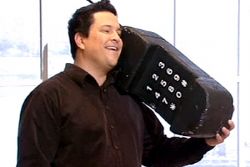 Spain's telecoms regulator yesterday rejected a call by the European Commission to force telecoms operators to cut mobile termination rates faster to help cash-strapped consumers.
On Monday, the Commission gave the Telecoms Market Commission (CMT) 3 months to say how it would lower the fees that a telecoms provider charges a rival for connecting a call.
However, the CMT said forcing telecoms companies to cut termination rates faster than planned would hurt the industry.
"Carrying this out in one step, or in a very reduced timeframe, could have a destabilising impact on the mobile market and could significantly reduce the income of operators at a time when the sector is carrying out significant investment," the said CMT on its blog.
Mobile termination fees are often no more than a few cents per minute but amount to hidden costs in consumer bills.
"Spanish consumers should not have to pay over the odds for mobile calls, especially when domestic finances are so tight," European Commission Vice-President Neelie Kroes said.
Spanish consumers are being forced to cut mobile bills and hunt for cheaper providers in a country with 23% unemployment.
"Industry has already had 3 years to adapt and a further delay of one year is unjustifiable," said Kroes.
The Commission wants the cuts by the end of December, but the CMT said that was too fast and operators were already losing customers to smaller operators.
The CMT said it would stick to the timetable it had set operators under which Spain's leading mobile operators -Telefonica, Vodafone and Orange - must gradually drop termination fees from 4 cents to 1.09 by January 1, 2014.
Spain's 4th mobile operator, Yoigo, must, under the CMT rules, cut its fees from 5 cents to 1.09.
The CMT said Brussels could not impose the change.
It is not the first time the CMT and the European Commission have disagreed on price regulation.
In 2007, the Commission fined Spain's dominant operator Telefonica 151 million euros for charging rivals too much to rent its broadband network. The CMT had approved the pricing.