Advertising standards agency slams Ryanair over Thomas Cook slur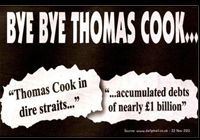 The Advertising Standards Agency in the UK has condemned the advertising campaign launched last year by Ryanair, where they referred to the economic difficulties being faced by Thomas Cook with an explicit message : "Bye, bye Thomas Cook ". The ASA has banned the publication of such adverts in the future.
The airline published these adverts in various British newspapers in November of last year, where they alluded to the "desperate situation" of the tour operator who owed debts of around 1,000 million euros. ASA received 15 complaints to these ads.
"They took for granted that the problems of Thomas Cook would lead to the bankruptcy of the company which gave rise to many comments because clients think if you book with this company, smear campaign." The ASA said in a statement.
The advertisements contained quotations of recent news about the financial difficulties faced by Thomas Cook, and contrasted them with positive comments in the news regarding their own financial security.