Ministers comments 'have not harmed Castellon airport'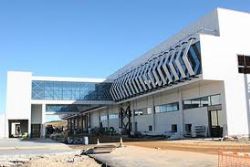 The Valencian Minister for infrastructure, Planning and the Environment, Isbel Bonig, commented earlier today how Castellón airport has not been affected by yesterday's comments made by Spain's Foreign Minister, Jose Manuel Garcia-Margallo.
Earlier this week Garcia-Margallo on Monday criticized the practice of opening so many regional airports which, in his opinion, has resulted in Spain becoming the only country to conitnue to open so many "Pedstrian airports".
Bonig made the comments after holding a breakfast meeting with the Confederation of Employers of Castellón, where she said she was surprised to hear the Minister talk about Castellón, but of no other public or private airports. She mentioned the unused Lerida airport, the closed Ciudad Real airport and Corvera airports, which have all surpassed the investment made to date at Castellon.
The Minister held up Alicante's El Altet airport as an example of how investment in an airport had been sucessful, growing by 5% throughout 2011 and bringing almost 10 Million tourists to the area. She remined critics that such an opportunity existed at Castellon because of the inability for Manises airport at Valencia to grow any more, but that this opportunity would only come with continued investment.