Spain not willing to yield on ECB board job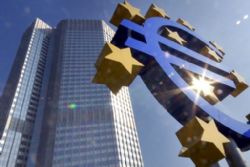 Spain is not ready to give up its seat on the Executive Board of the ECB after its current representative leaves the institution in May, a spokeswoman for the Spanish economy ministry said on Wednesday.
Her comments came a day after diplomatic sources told Reuters France was prepared to switch its allegiance from Spain to Luxembourg in the battle to replace the departing Jose Manuel Gonzalez-Paramo.
The Spaniard will be the last board member to leave the Frankfurt-based institution until 2018, and the appointment of Luxembourg's Yves Mersch would tilt the balance of the executive towards anti-inflation traditionalists.
"We keep working to get this job that we believe should be ours given our weight in Europe," a spokeswoman for Spain's Economy Minister Luis de Guindos told Reuters.
"We stick and we will stick in the future to the same candidate," she said.
ECB board members are chosen by euro zone governments rather than the central bank itself. A decision could be made as soon as Monday at a meeting of euro zone finance ministers before being rubber-stamped by heads of government at a later date.
According to an unwritten rule that has never been broken since the ECB was established 14 years ago, the four biggest euro zone countries - Germany, France, Italy, Spain - should always have a seat on the board.
The third man in the race is Slovenia's former central bank head Mitja Gaspari but he is widely seen as an outsider.
Government sources said Spain's Prime Minister Mariano Rajoy was lobbying hard with other European leaders to defend the chances of Madrid's candidate, Antonio Sainz de Vicuna, currently the ECB's top lawyer.
However, several euro zone sources said Sainz de Vicuna, who is not an economist, did not have the right profile for the job, especially at a time when the ECB is seen as a key institution in the struggle to resolve the bloc's debt crisis.
"Madrid should have put forward somebody else in the first place. They don't have the right guy," said one of the sources, who insisted the ECB race was tied to other top jobs in Europe.
According to this source, France is pushing for a French treasury official, Philippe Fontaine Vive Curtaz, to become president of the European Bank for Reconstruction and Development, rather than the EBRD's current chairman, Thomas Mirow of Germany.
A spokesman for the German government said on Wednesday a decision would be taken after talks with EU partners.
Other top jobs coming up include that at the helm of the Eurogroup of finance ministers, currently held by Luxembourg's Jean-Claude Juncker, and leading the EU's permanent bailout fund, the European Stability Mechanism.
Germany backs the current chief of the European Financial Stability Facility, Klaus Regling, to get the job when the ESM succeeds the temporary euro zone bailout fund in July.