Telefonica says not selling European assets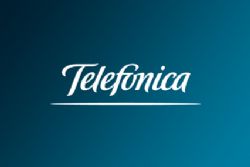 Spain's Telefonica said it was confident that Europe would get through the current economic downturn, and it was holding onto its assets and maintaining investment in its network and services this year in readiness for an eventual recovery.
The CEO of Telefonica Europe, said that despite the tough economic backdrop, the group was not looking to dispose of any of its operations in Europe in order to cut its debt.
"We are not sellers," he said in an interview after the company launched its 'Think Big' programme to support young people and back technology start-ups in London.
"I have been hearing a lot of noise in Ireland: we are not sellers full stop."
Analysts have speculated that Telefonica could sell one or more of the companies it owns in 5 European markets outside Spain to help it reduce a €57 billion debt mountain.
It has operations, in Britain, Ireland, the Czech Republic, Germany and Slovakia, trading as O2.
Alvarez-Pallete, who is responsible for European operations outside Spain, also said on Wednesday that the company would not cut investment in the next generation LTE (Long Term Evolution) technology and fibre networks that were needed to cope with the explosion in data traffic.
"The message we are giving to all of our teams is that there is light at the end of tunnel," he said.
"We are very committed to Europe, so we are not restraining capex in Europe, we are investing very heavily because we are betting for the future."
Telefonica has not guided on capex in different regions this year, but Alvarez-Pallete said it would not be cut in Europe.
He said Germany was brighter than elsewhere in Europe, and Telefonica was gaining market share in the country.
Telefonica and rival KPN, with its E-Plus subsidiary, trail Deutsche Telekom and Vodafone in Germany, and there has been long-standing speculation that the two smallest operators will merge.
Alvarez-Pallete said that was not necessary.
"We are in pretty good shape, so we do not need to do anything different," he said. "We are at full speed in Germany."
THINK BIG
Telefonica said Europe's long-term problems such as youth unemployment and low growth were not insurmountable, and it is contributing some way towards a solution with its "Think Big" programme.
The initiative, which is already running in Latin America and Spain, supports young people involved in community projects and it also provides funding for new technology companies.
It is setting up facilities in London's West End that will host 20 start-ups this year under the scheme, which is called "Wayra", he said. It will be rolled out in all of the company's markets, he added.
Each company receives funding of between €30,000 and €70,000, and Telefonica takes a 10% stake in return, although Alvarez-Pallete stressed the companies were free to set their own destiny.
"We are facing a brain drain of start-ups and entrepreneurs (in Europe)," he said. "This is a call for action."
Telefonica is investing about €150 million in the initiative over the next 3 years, he said.