Congress debates regional and national government responsibilities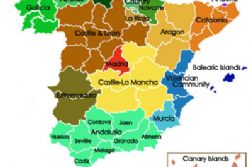 Earlier this week Spain's PM addressed congress over the need to rethink which services should become the responsibility of central government, and which should be left to the regions.
The leader of the center-right UPyD party called for a restructuring of the state through centralisation, referring to an "undefined territorial model that has left central government lacking essential powers."
In response, Rajoy agreed that there were too many overlapping areas of jurisdiction, and confirmed that a report on eliminating a number of public companies and institutions was being prepared for discussion by the cabinet over the next few weeks.
Minister of Finance, Cristóbal Montoro, agreed that "We won't get out of this crisis if we don't reorganize the distribution of powers", but insisted that the centralisation of responsibilities would not necessarily mean a rewriting of the territorial map of Spain. He defended the current Federal model of Spain, telling the leader of the UPyD "We haven't made a mistake with the model of the country," he said. "The most efficient countries in Europe are federal."
The debate followed on from the government forcing further painful cuts on the regions in order to reduce the regional deficit to 1.5% of GDP.
All 11 of the PP controlled regions voted to accept the cuts, whilst Andalusia (PSOE) voted against the vote, whilst the Canary Islands and Catalonia (Controlled by the ruling CC and CiU regional parties respectively) abstained from the vote.