Protest at Barajas T2 today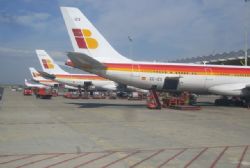 The Council of Workers at Barajas airport has called for employees to gather at the airport's T2 building today in protest over AENA's failure to maintain minimum staffing levels.
Workers at both of Tenerife's airports have joined in the protest by taking similar action.
last week the committee called a series of 24 hour strikes to take place on the 16th and 19th of March, the 4th, 8th and 30th of April and the 2nd and 3rd of May.
The strikes will concern AENA employees in passenger support; airline liason; airport maintenance; air navigation maintenance; signalers; firefighters; personnel; administration; medical and transportation roles, amongst others.
The protest has been called due to AENA's failure to follow the Safeguards Agreement of 2011, which sets a minimum number of personnel to be employed in each position - specifically urging AENA to employ a total of 9 Programming technicians, who are responsible for the movement and parking of aircraft around the airport.
The strike action was unanimously by all members of the airport's council of workers, who are reprsented by the CGT (seven members), CCOO (5), USE (5), UGT (4) and CSPA (2) unions.