Huesca airport sees 21 passengers in 6 months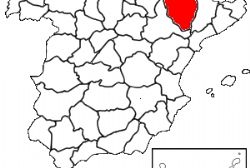 Spanish daily, ABC, has revealed how Huesca airport in North-East Spain, has processed just 21 passengers over the last 6 months.
All passengers arrived at the airport via private flights and have prompted questions about the future of the airport, which celebrates it's 4th anniversary in April, after €40 Million of investment by state owned operator, AENA.
The airport, originally promoted as a gateway to welcome skiers to the resorts in the Pyrenees - despite being located more than 100km away, fell into difficulties following Pyrenair's decision to leave Huescar last year. Despite receiving subsidies to the value of almost €2.5 Million from the region of Aragon, and flying some 19'000 passengers from a number of domestic and european routes, the airline was unable to operate profitably.
Upon being elected into office last year Luisa Fernanda Rudi, the regional President of Aragon, asked the Ministry of Development, to help find a solution whereby the airport could remain operational. In the meantime they are seeking ways to allow private companies to use the airport and to look at the possible establishment of a fliying school at the airport, which has attracted interest from both Chinese and British investors.
Once again, the provincial and regional government called demanded their own airport, despite being located just 71km from an airport ain neigbouring Zaragoza. When will the lessons learned from Huesca, Ciudad Real, Lerida and Castellon eventually sink in ?