Corvera meeting fails to give date for opening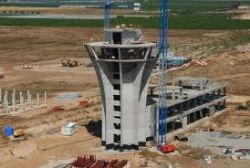 Murcia's Minister for Public Works, Antonio Seville, met in Madrid yesterday with the Secretary of State for Planning and Infrastructure, Rafael Catala Polo, to discuss the regional infrastructure of Murcia.
With regards to Corvera airport, the talks focussed on 3 issues : the nature of the service contracts to be awarded to AENA for air traffic control and navigation; the reclassifcation of airspace surrounding the airport (to be agreed in conjunction with the Ministries of Defence and Development) and the current state of the negotiations between AENA and Aeromur, which would then allow the staff to be transfered across from San Javier airport to Corvera airport.
Although the meeting was understood to be a positive and productive one, the outcome did not enable any further estimation for dates to be given for when the new airport may be expected to become operational.
The issue of the arrival of the AVE high speed rail network in Murcia, scheduled for 2014, was also discussed.